Description
ABSTRACT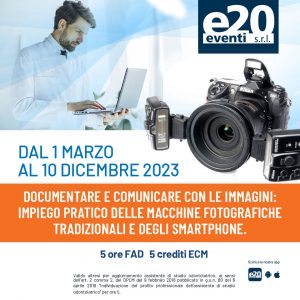 Photographic images have always been a very efficient and powerful means of communication, but until a few years ago the equipment and techniques needed to obtain quality images were not within the reach of everyone.
The very rapid evolution of technology has totally changed this situation, making it possible for more and more users to achieve very high quality results with relative ease.
After an overview review of basic photography concepts, the various aspects of collecting and using clinical endoral images obtained with both traditional cameras and smartphones will be examined.
COURSE RECIPIENTS
Accredited professional figures: Dentists, A.S.O.
MODE OF CONDUCT
The activities will be carried out in FAD.
For those who chose payment by bank transfer, please note that since this is a practical course with limited places, the registration will be considered valid if followed within 5 days. From the reservation, payment accounting. Otherwise, the reservation will be automatically cancelled.
CANCELLATION POLICY
In case of non-attendance, a refund net of Secretariat fees (50% of the registration fee including vat) will be made only if written cancellation is received by the Secretariat no later than 15 working days prior to the holding of the event for proven reasons. Entries will be considered valid only if accompanied by the registration fee or transfer receipt.
TO CONTACT THE ORGANIZING SECRETARIAT, WRITE US ON WHATSAPP!