Description
ABSTRACT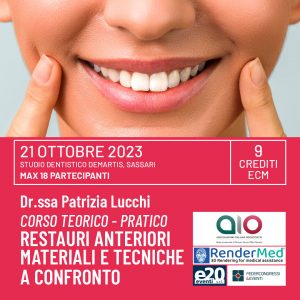 Modern restorative dentistry is based on the principles of adhesion and minimal invasiveness. Composite materials in particular have emerged on the market as a restoration solution that is no longer temporary but permanent and universal; today there is no treatment plan that does not include their use as a seal, anterior or posterior restoration, or support for a prosthetic crown.
Perfect knowledge of the merits and application techniques of these materials is indispensable for every dentist to achieve optimal results with correct working time. Preformed resin shells represent a new and economical perspective in frontal sector restoration as an alternative to the systems used to date, with a minimally invasive approach and a predictable result managed by the clinician directly at the chairside.
The course is intended for Surgeons and Dentists who wish to deepen their knowledge of the treatment of aesthetic reconstruction of the anterior sectors. All aspects of the different reconstructive options, from direct to semi-indirect methods, will be developed during the day.
The extensive clinical case histories will enable each trainee to gain knowledge regarding all aspects of aesthetic anterior restoration. Tips and tricks will also be provided to the trainees that can enable them to improve results that can be achieved daily and easily in daily practice.
COURSE PROGRAM
SATURDAY, OCTOBER 21

8.30 – 9.00
Registration of trainees
9.00 – 11.00
– Why "minimally invasive" restoration is the strategy for success in anterior teeth
– Analysis of modern composite materials on the market
– Color, preparation, form: how to deal with different critical issues in anterior restoration
– Insulation and adhesive techniques
11.00 – 11.15
Coffee Break
11.15 -13.00
– The new Universal stickers
– Reverse stratification
– Limitations of direct conservation restoration: when to switch to semi-indirect or indirect restoration
– New horizons in stratification: EGRs
– Esthetic Guided Restorations: indications for use and The step by step technique
13.00 – 14.00
Clinical case histories and case discussions
14.00 – 15.00
Discussion and conclusion of work
COURSE RECIPIENTS
Accredited professional figures: Surgeons, Dentists.
MODE OF CONDUCT
The activities will take place in presence on Saturday, October 21, 2023
For those who chose payment by bank transfer, please note that since this is a practical course with limited places, the registration will be considered valid if followed within 5 days. From the reservation, payment accounting. Otherwise, the reservation will be automatically cancelled.
CANCELLATION POLICY
In case of non-attendance, a refund net of Secretariat fees (50% of the registration fee including vat) will be made only if written cancellation is received by the Secretariat no later than 15 working days prior to the holding of the event for proven reasons. Entries will be considered valid only if accompanied by the registration fee or transfer receipt.
LOCATION
The course will be held at.

Studio Dentistico Demartis, Via Principessa Maria, 30, 07100 Sassari (SS)
WITH THE UNCONDITIONAL CONTRIBUTION OF:

TO CONTACT THE ORGANIZING SECRETARIAT, WRITE US ON WHATSAPP!