Description
OBJECTIVES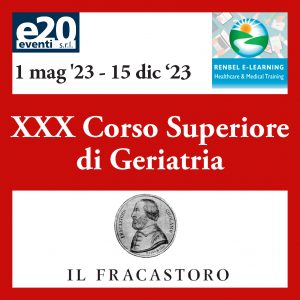 Daily observation of the elderly teaches a lot. They are prodigy and fragility together. Our bodies are able to overcome incredible obstacles, to neutralize an endless myriad of strange substances and insults. Then, however, it collapses. Not infrequently, this happens when we stop dreaming, wishing, planning. Death, however, is not something you get used to. Every time we are moved. Despite knowing that it is inescapable, people fight it, oppose it. You always try to move it "three waves further." It is as uncertain a saying as ever that says everything and nothing, but betrays a need that is never paid for. This concept had been used in Venice, in the 1600s, to demarcate the seaward boundary of the land on the Po delta that new owners could rely on. The doctor adapts this idea to his patients because he always tries to move "three waves further" the turning point. In man, greatness and limit coexist. It is the paradox of our existence. Wonder and absurdity dwell in us, especially, when we become old. On the one hand, our organs have potentialities that are enchanting; on the other hand, they are jammed for reasons that seem seem seemingly trivial. Machines, technology, servants of science, have enabled us prestigious achievements, great feats. Unfortunately, they have conquered and occupied the whole scene of medicine, and too much confidence is placed in them. The danger of technology is that it does not consider, does not value the stories, the legends, the anxieties of man. This teaches, every day, Geriatrics. Man is beyond anatomy and physiology and should be contemplated with love. Few things soothe me as riding a motorcycle. It is no accident that one of my books was given the title Going Thinking. I drive without thinking about time, without fears and worries. I relax and let my brain work. Going and thinking together is pleasant. If, however, you exacerbate one of these activities, you erase the other. If you run you don't think. One gets too caught up in driving, in the road. If you think a lot, you slow down to a stop. The right balance is needed. Going helps creativity. Ideas, thoughts, stories live in my mind, and when I come back, I have to put them on paper so I don't forget them. I feel a growing need for knowledge. I know I am not saying anything new. Brunetto Latini, who counted Dante Alighieri among his students, used to repeat that "wisdom is the greatest treasure." According to him, it was comparable to cash. He was trying to convince his fellow citizens about this great truth, even though some, indeed many, reiterate that with culture you cannot eat. Socrates, 1700 years earlier, warned that the true knower is the one who knows that he does not know. The larger the island of knowledge, the wider the boundaries of ignorance. As the centuries passed, it was realized that not only wisdom is treasure, but it also makes health. It is medicine. Many diseases that plague our time, primarily cognitive disorders, are influenced by the desire for knowledge. From accredited studies, in leading scientific journals (The Lancet, July 20, 2017), the incidence of dementia could be reduced by 33 percent if we learn to adopt appropriate lifestyles such as: "sensible" diet, little alcohol, exercise, smoking abolition, combating hearing loss, controlling hypertension, controlling blood sugar and, above all, keeping the brain active at all times. It is also significant to note that recent research has shown that those who live in Mugello live less than those who live in Florence. This observation echoes similar studies that living in pleasant but isolated locations shortens life ("The Bitter Medicine" by Roberto Volpi). Man needs society, contacts, opportunities, knowledge and, then, despite the fine dust and pollution, we live longer. It is useless to wait for the advent of drugs that can correct these major societal problems. Instead, it is fair to mention that medicine has achieved important milestones by acting on prevention. Loneliness increases attrition, weakens immunity, increases disposition to hypertension, cardiovascular and metabolic diseases, and so on. We should improve direct contacts. You have to look at each other's faces, catch the expressions of the face, the eyes, the body. Man is a sociable being. It is a great lesson for all of us to grasp at this very difficult time of COVID-19 pandemic. We need to be around people and learn to observe the wonderful nature around us, get excited about the color of flowers and the different shades of green in the meadows. Knowing how to listen to the silence of the mountain, the howl of the wind, the voice of the sea. One feels part of everything and loneliness dissolves. "To be content with the world. Struggle for it to remain as it is," as Sylvain Tesson says in The Snow Panther.
ABSTRACT
Maxillofacial District Pathologies: functional, aesthetic and psychological aspects Speakers: Pier Francesco Nocini, Lorenzo Trevisiol, Massimo Albanese Moderators: Stefania Montemezzi Generic or equivalent drugs: are they always an opportunity? Speakers: Ercole Concia, Giovanna Scroccaro, Roberto Castello, Claudio Micheletto Moderators: Luigi G. Grezzana Geriatrics as a new Humanism in Medicine Speakers: Umberto Senin, Stefania Maggi, Andrea Ungar, Chiara Pavan Moderators: Matteo Grezzana Vascular Surgery today: the other side of the moon Speakers: Gian Franco Veraldi, Fabio Simoncini, Luca Mezzetto Moderators: Gabriele Zanotto, Arrigo Battocchia The loneliness of the elderly in places of care Speakers: Pier Luigi Scapicchio, Gianfranco Sinagra, Paolo Zanatta Moderators: Giorgia Cecchini, Nicola Smania How to protect urogenital health at any age Speakers: Walter Artibani, Pierpaolo Curti, Alessandro Antonelli Moderators: Caterina Pastori, Carlo Congiu Geriatrics: between rigor, imagination and genius.
COURSE RECIPIENTS
Accredited professional figures: All professions.
MODE OF CONDUCT
The activities will be carried out in FAD.
For those who chose payment by bank transfer, please note that since this is a practical course with limited places, the registration will be considered valid if followed within 5 days. From the reservation, payment accounting. Otherwise, the reservation will be automatically cancelled.
CANCELLATION POLICY
In case of non-attendance, a refund net of Secretariat fees (50% of the registration fee including vat) will be made only if written cancellation is received by the Secretariat no later than 15 working days prior to the holding of the event for proven reasons. Entries will be considered valid only if accompanied by the registration fee or transfer receipt.
TO CONTACT THE ORGANIZING SECRETARIAT, WRITE US ON WHATSAPP!