Description
ABSTRACT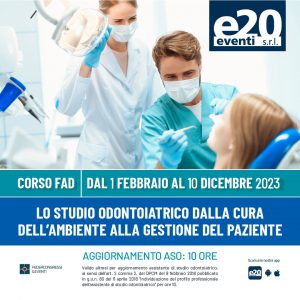 The course aims to update ASOs:
On the new digital technologies that the COVID era imposes.
On new practice management with aparticular emphasis on the proper use of PPE.
On "reasoned" management of de-terilization protocols, deepening cognition oniviruses and bacteria in general not only of covid.
On a thorough scientific knowledge of sanitizing substances.
On the innovative "tele-dentistry" that will be thepillar of dental practice in the years to come. (We will give step-by-step practical directions for building a professional workstation and environmental, gestural and communication modalitiesfor conducting a session.)
Ultimately, it will be ten hours of refresher training in order to prepare the ASO for a professional approach to the new digitized and paperless world.
COURSE PROGRAM
The indices of infection and what to do if a patient is Covid positive
Bacteria, viruses and fungi: spread around the world
Safety precautions
Various levels of security
Various levels of containment
Risk factors
Real classification of PPE
Tools for purchasing PPE "safely"
Digital sterilization process
Traceability and control testing (both for proper operation of equipment and for actualelimination of pathogens)
Eliminating the risk of airborne contamination
Equipment: which correct and which harmful?
Teleodontics
How to build a post
Posture, gestures
Communication
Patient management
The waiting room
Lighting: new concepts
Information technology in the service of the ASO
Useful accessories and programs
Digital archiving
Word of mouth 3.0 or digital
What the future holds.
Brief overview glimpses of the trend in dentistry
COURSE RECIPIENTS
Accredited professional figures: A.S.O.
MODE OF CONDUCT
The activities will be carried out in FAD.
For those who chose payment by bank transfer, please note that since this is a practical course with limited places, the registration will be considered valid if followed within 5 days. From the reservation, payment accounting. Otherwise, the reservation will be automatically cancelled.
CANCELLATION POLICY
In case of non-attendance, a refund net of Secretariat fees (50% of the registration fee including vat) will be made only if written cancellation is received by the Secretariat no later than 15 working days prior to the holding of the event for proven reasons. Entries will be considered valid only if accompanied by the registration fee or transfer receipt.
TO CONTACT THE ORGANIZING SECRETARIAT, WRITE US ON WHATSAPP!